Selling your home can be a stressful and painstakingly long ordeal. The process of preparing your home to sell is an entirely different affair that often leaves you with more questions than answers. It doesn't have to be a mystery, and there are several steps you can take to prepare your home for resale. If you're ready to get to work preparing your house to hit the market, then here are a few things to consider to get it ready for potential buyers. 
What Is Resale?   
Resale refers to reselling your home. Unless you built the house and were its first occupants, then chances are you purchased your home from someone else who owned it before you did. The term resale means just that, reselling. Think about what first attracted you to the house that led you to buy it in the first place, and try to imagine what the previous owners did to get it ready for prospective buyers.
You're preparing to do the same thing again. Preparing a home for resale is a process that takes careful consideration and strategic planning. Ideally, you're selling your house for more money than you originally paid for it, so you have to think about finances when preparing it for resale. 
Checklist for Getting Your House Ready to Sell 
Preparing to sell your home means more than slapping on some paint and decluttering the living areas and bedrooms. You want your property to stand out to potential buyers, and there are several steps you need to take to get it ready for resale. You may be wondering how to get a house ready to sell. In that case, take the guesswork out of the process and consider these tips for selling your home.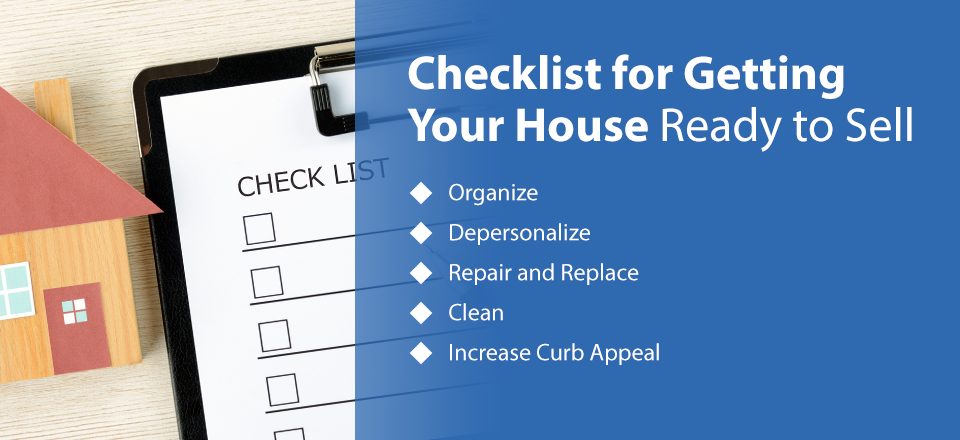 1.Organize
Organizing your home will make it more presentable for prospective buyers, and it's a great place to start when you're preparing it to sell. Start by organizing the following areas of your house: 
Closets and cabinets: Organize your closets and cabinets by pulling everything out of them and getting rid of old items that you don't use anymore. By the way, this will also help when you go to move, too. After you've pulled everything out, sort it neatly in its place. You'll also want to clean the floors, walls and ceiling. Potential buyers are certainly going to look in the closets and around the bedrooms. Garage and storage shed: Potential buyers will inspect the garage and any storage sheds or buildings around the property since you're selling them with the house. Organize your garage and other storage buildings by hanging any large loose items such as bicycles. Neatly arrange your gardening tools and other equipment along with your workbench area by hanging tools on hooks.Patio space and lawn: Prospective buyers want to know they're buying a house that has been well maintained and kept up with over the years. Organize your patio space by rolling up hoses and placing other equipment where it belongs. Kitchen and bathrooms: Be sure to organize your kitchen and bathrooms to look presentable and clean when you're showing your house. Be sure to set out fresh unused towels on the days you're showing the house.  
Organizing your home shows homebuyers that you have maintained the house over the years. It makes them feel better about buying the house from you. You can start with these spaces and move on from there. Other areas that you'll want to organize include kitchen drawers and any shelving spaces, especially those in your living room. Selling your house is all about presentation, and an organized area presents better than a disorganized one.   
2.Depersonalize 
Take your valuable items and family heirlooms down from around the home. Depersonalizing spaces involves removing those items that make them yours and replacing them with more general decorations and other things. You want your prospective buyers to be able to envision themselves living in the space, not the other way around. Present a blank canvas to prospective buyers by removing photos, heirlooms and other memorabilia from the walls and shelves.
Keep in mind that you're trying to sell your house to prospective buyers. By depersonalizing the space, you're also disconnecting yourself emotionally from these spaces. For example, you should consider replacing photographs of yourself and your family across shelves with small plants and simple decorations. 
Take any family heirlooms or other personal antiques down from around the house and pack them to move or store them in an inconspicuous spot such as a closet or storage building. These items are often not as appealing to prospective buyers as they are to you.
3.Repair and Replace
One of the best tips for selling your home quickly is making minor home improvements and repairing existing issues. Replace any broken items and make necessary repairs before showing your home to prospective buyers. Pay close attention to the following areas:
Leaky faucets: Repair those leaky bathrooms and kitchen faucets before showing your house. Potential buyers are sure to try the water faucets, and you don't want a leak or poor pressure to cost you a potential sale. Fix these yourself or consider hiring a plumber or another home service professional if you're unsure. Broken tiles and flooring: Replace and repair any cracked tiles and flooring before you show your house. Pay special attention to the high traffic areas around your home, such as doorways. Replace any old carpeting and consider refinishing flooring before showing your house.  Doors and handles: Replace or repair broken and loose door handles and knobs. Check handles and knobs from both directions to ensure they turn and stay secure when you close them. Drawers: Ensure your kitchen and cabinet drawers move smoothly and slide in and out like they're supposed to. Fix any drawers that might be sticking or getting jammed. Look for any cracked or broken drawers and cabinet doors and get those fixed or replaced if you need them. One of the first things prospective buyers will do is open the cabinets and kitchen drawers to inspect storage options and space. Patch holes: Getting ready to sell your house is a great time to patch those holes and get your walls looking like new before showing them to potential buyers. Light bulbs: Go through your house and check the light bulbs. Replace any blown bulbs and older bulbs that you haven't replaced for a while. Double-check your lights and go through the house, turning switches on and off to ensure they're all working efficiently.  
Pay close attention to walls, ceilings and floors when you're going through making any necessary repairs. Cracked or chipped tiles and hardwood flooring is an immediate red flag, especially for experienced potential buyers. Cracks in the floors or walls can signal foundation and structural damage, so you should understand what has caused this to happen in the first place.  
4. Clean
Cleaning your house to get it ready to sell is paramount. It sounds like a given, but you will need to present a clean environment to possible buyers. Displaying a clean house is one of the best ways to sell it quickly. There are different approaches you can take.
You can decide to clean your house yourself or hire a professional cleaning company to do it for you. Depending on your daily schedule and the size of your home, you'll likely want to consider the latter. Hiring a professional crew will ensure that your house is as clean as possible when it's time to show it. 
If you opt for cleaning your house yourself, then remember to keep these areas in mind: 
Dust the entire house top to bottom: Dust your whole house by pulling out furniture and cleaning from the top down. Start with the top floors and work your way down. If you don't have stairs, begin by cleaning the highest points of your house first, such as the ceilings and ceiling fans, before making your way down to the floors. It's a good idea to vacuum as you go and work your way from room to room.  Clean carpets and floors: The longevity of your hardwood floors and carpeting depends on how and when you clean them. Present a clean house by shampooing carpets and steam cleaning the floors. You can typically rent the equipment to do this at your local hardware store. Once you've cleaned them, be sure to keep them clean by vacuuming daily and frequently mopping.  Scrub the surfaces paying close attention to bathrooms: Remove everything from your bathroom counters and other surfaces before cleaning them with hot soapy water or disinfectant spray. Clean your bathroom mirrors the day of a showing to ensure they are sparkling and free from water spots. Focus on the house's surfaces as opposed to yours. Countertops, stovetop, cabinets, drawers and showers and tubs are all great places to start when cleaning and preparing your house for sale. Scrub stains and clean the nooks and crannies around your countertops.  Thoroughly clean the kitchen and appliances: The kitchen is a valuable room for potential buyers, so you'll want to be sure it's thoroughly cleaned and organized. Scrub all of your surfaces, and be sure to have your appliances shining, especially if you're selling them with the house. You'll also want to thoroughly clean and declutter the countertops as well as your kitchen floors. 
The kitchen is one of the most appealing rooms to potential buyers because the family gathers to cook and eat meals there. Since remodeling a kitchen yields a high return on investment (ROI), you may want to replace old carpeting or countertops. If you're updating your kitchen to get your house ready for resale, then there are affordable options for kitchen flooring and countertops to consider.
5. Increase Curb Appeal
Curb appeal refers to the way your house looks to someone standing in the street or walking by, and it's the initial impression someone gets when they see it for the first time. Your home's curb appeal affects its resale value.
You don't want to invest in expensive landscaping or front yard construction projects to increase your home's curb appeal, so try taking the following steps before opening your wallet: 
Pay close attention to the entrance and front door: Clean the area around your front door and replace the welcome mat with a new one. Try to remove your old screen door if possible and paint or clean your front door. Sweep your porch and wash the windows with hot soapy water followed by a cleaner. You can also choose to paint your front door. A fresh coat of paint, especially neutral or earthy tones, will make your front entrance inviting and welcoming for possible buyers.Remove all personalized and decorative items: Takedown any decorations, such as hanging string lights, wind chimes, wreaths and other things. Just like you remove personal photos and heirlooms from around the house, remove them from the outside as well. Getting rid of these items will help you declutter the outside and help it look clean and organized. You'll also want to offer your prospective buyers a clean slate that they can envision turning into their own outdoor space.  Mow, trim and clean around your property: Be sure to mow and trim the lawn and the areas around your property. Use a string trimmer to cut the places you can't reach with a traditional mower. Use a leaf blower to dispense of the clippings and clean the yard after you've finished. You'll also want to trim any shrubs and trees, especially in front of your house near the entrance. Trim them evenly across the yard.  Clean paved areas including walkways, patios and driveway: Start with blowing leaves and debris off your walkways, patios and driveway, followed by hosing them off. While you're cleaning, check for any cracks or breaks and take note to get those repaired. Clean any oil stains or spots off your driveway or from the floor of your garage if possible. Pick up and store any items from around these areas, such as bikes, garbage cans and kid's toys.
These are just a few simple ways to improve your yard to enhance your home's curb appeal. You can also consider planting a few new shrubs if you don't already have any around your house. Other more costly projects you can consider to enhance curb appeal include painting the exterior and installing mulch and flower beds.
Prepare Your Home For Resale by Choosing 50 Floor
Do you know what makes a home stand out for potential buyers? New floors from 50 Floor. 
Enhance your home's resale value by getting rid of that old carpet or vinyl flooring and replacing it with new floors from 50 Floor. With over four decades of combined experience, at 50 Floor, we offer a unique buying experience for our customers. Shop our products online and schedule an appointment today. We'll come to you with samples of different flooring materials that can work with your property.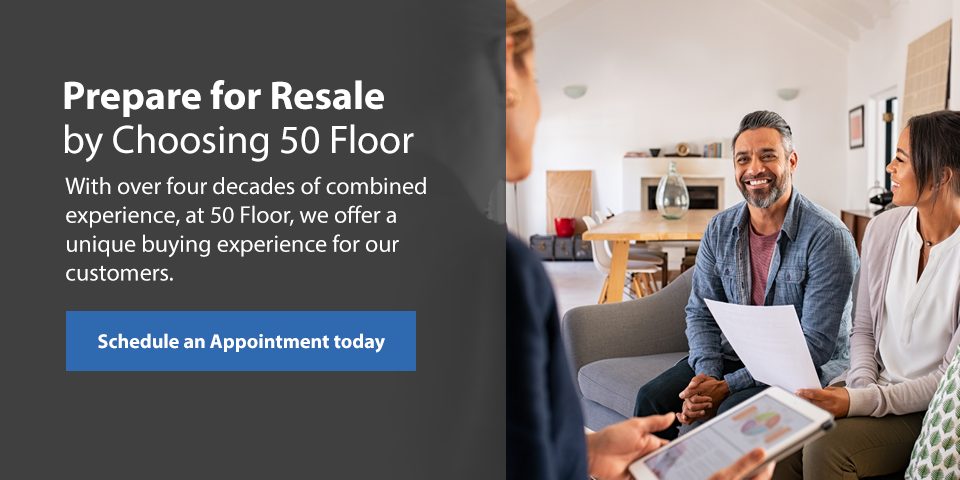 The post How to Prepare a Home For Resale appeared first on 50 Floor.
Did you miss our previous article…
https://xtreme-flooring.com/?p=1184