Are you looking to freshen up your home with some new additions? You're not the only one!  Over the past three generations, theimportance of home decorationto the general population has risen. Adding new additions to your home isn't just fun — it's a step towards making your home reflect your style on a deeper level.
How your home is put together can also have positive effects on your mental health. For example, the way a room inside your home is planned out, including how much space it has,can positively affectyour physiological stress.
Researchers have even found that carpet inducesless physiological stressthan walking on wood floors. However, wood floors are aesthetically pleasing and easy to clean. Any new home additions will depend on what you need from your home!
With all that said, let's look at ways to create the perfect home for you with unique home additions.
The Best and Most Unique Home Addition Ideas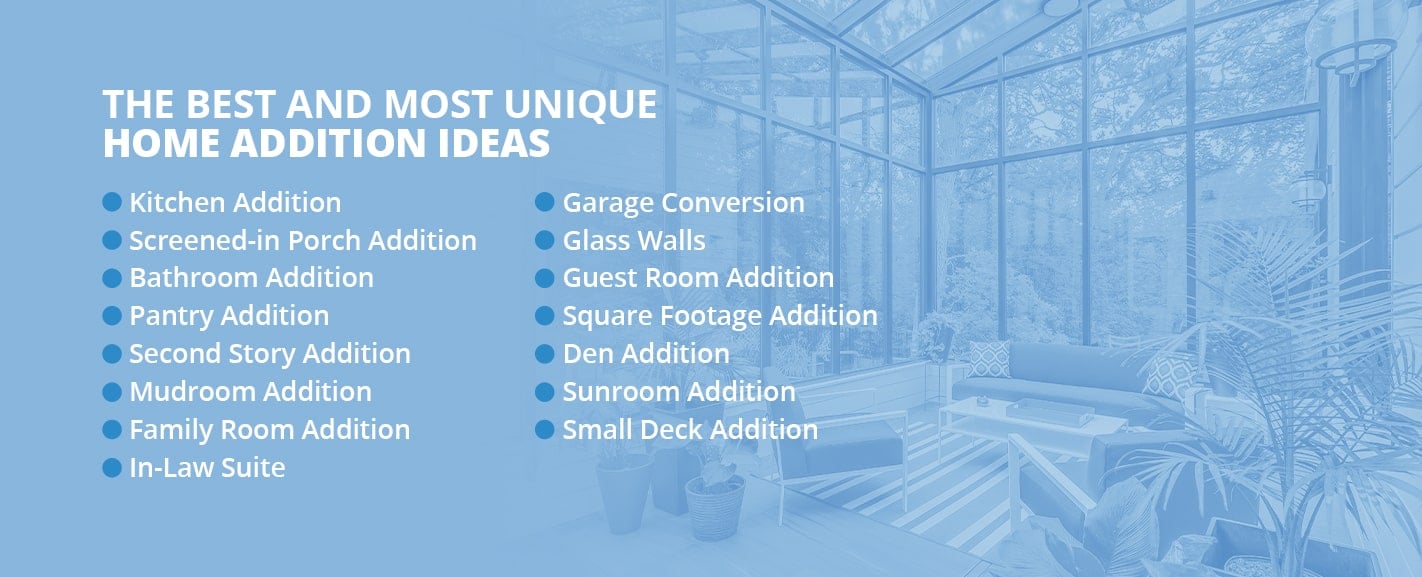 We know sorting through all the home addition ideas out there can be overwhelming, which is why we've created a simple list of the best and most unique home addition ideas.
1. Kitchen Addition
Are you looking to rehabilitate your kitchen? Consider adding square footage to your kitchen so you can fit in extra amenities, such as an eat-in counter, a breakfast nook, or even new appliances, such as a larger refrigerator or an additional food pantry.
2. Screened-in Porch Addition
Sometimes you might want to witness the total beauty of nature without dealing with the weather. A screened-in porch is a perfect place to chill out during these moments. Is it winter? No problem. Grab your book and watch the snow fall from your new porch.
3. Bathroom Addition
A bathroom addition can include a walk-in shower, a larger bathtub,new, unique flooring, an extra sink for your partner or a whole new bathroom on a different level of your home. A bathroom is a place you can go to be alone and relax, and bathroom additions can help you create a bathroom you want to escape into.
4. Pantry Addition
We could all use a little extra storage space. For a pantry addition, you could utilize space that's already free in your home or you could convert an unused closet into a pantry. Consulting a professional on how to add a pantry to your home is your best bet.
5. Second Story Addition
Whether your family is getting larger or you need more space for an office, gym, library, etc., a second-story addition can help you out. If you want a ton of extra square footage, it's time to build a home on top of your home!
6. Mudroom Addition
Finding a space for shoes and other objects that come in contact with the outdoors can be tricky, but a mudroom addition to your home can solve this problem. Add a mudroom and protect your home from germs that come in with shoes and coats.
7. Family Room Addition
Family rooms are important. It's where families often gather to watch movies or do other fun activities. That being said, family rooms get a lot of use and traffic, so adding square footage ornew flooring is always a good idea. Not sure how to choose new flooring for your home addition? Check out 50 Floor's blog, where we have blog posts about everything flooring, such as how to choosethe best flooringfor an open-concept floor plan.
8.  In-Law Suite
When you gain additional family members through marriage, why not gain an addition to your home along with them. In-law suites are a great place for your in-laws to stay when they visit, babysit the kids or stay long-term. They'll feel welcome and comfortable with the addition of an in-law suite.
9. Garage Conversion
Not using an old garage? An unused garage is the perfect space to convert into a gym or game center. Of course, with this addition, you'll want tothink about flooringthat will fit the function of your new space.
10. Glass Walls
Who knew that walls could be chic? Glass walls not only let in a lot of natural light in whatever room you decide to install them in, but they can give the appearance of more open space.
11. Guest Room Addition
We know you love your friends and family, so why not have a special place for them to wind down when they come to visit you? They'll gain comfort, and you'll get to design and decorate a beautiful new addition to your home.
12. Square Footage Addition
A square footage addition is appropriate for any room in your house, though it is best to consult a professional on how much square footage you can add to your home and where that square footage can be added. Of course, with any square footage addition, you'll have to think aboutreplacing your flooringor coordinating your new flooring with your old flooring.
13. Den Addition
If you want a room similar to a family room but a bit more intimate, consider a den addition. Den additions are typically designed to be a cozy place to relax with your loved ones and maybe watch TV or play video games.
14. Sunroom Addition
If you're a plant lover or you like to bask in the sun yourself, a sunroom addition is the perfect way to go. Sunrooms get plenty of natural light for your plants and you to enjoy.
15. Small Deck Addition
A deck addition doesn't have to be big. A small deck can add a lot to your home. It can be a place to relax and enjoy the weather or a place for you and your family to gather and cook some delicious food.
Design Your Perfect Home Addition With 50 Floor
Looking for unique floors to replace your old ones? At 50 Floor, we'll come to your home to show you a range of flooring options. The best part about shopping at home is you'll be able to see how different flooring options coordinate with the décor in each room of your home.
Why shop with us? We offer competitive prices and free in-home consultations. The following are morebenefits of working with us:
On-time promiseSuperior safetyElite maintenanceLearn more about all our flooring options and their costs when you contact us at 1-877-505-5667.
Start on your new home addition, andschedule an appointmentwith us today.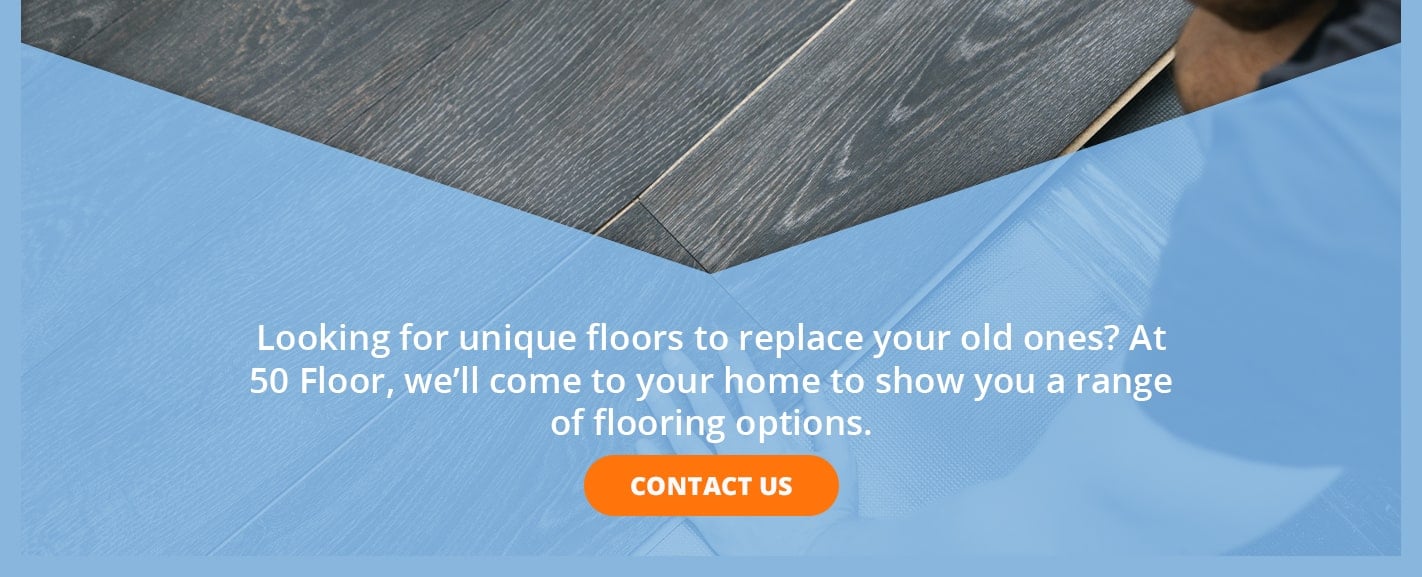 The post Home Addition Ideas appeared first on 50 Floor.