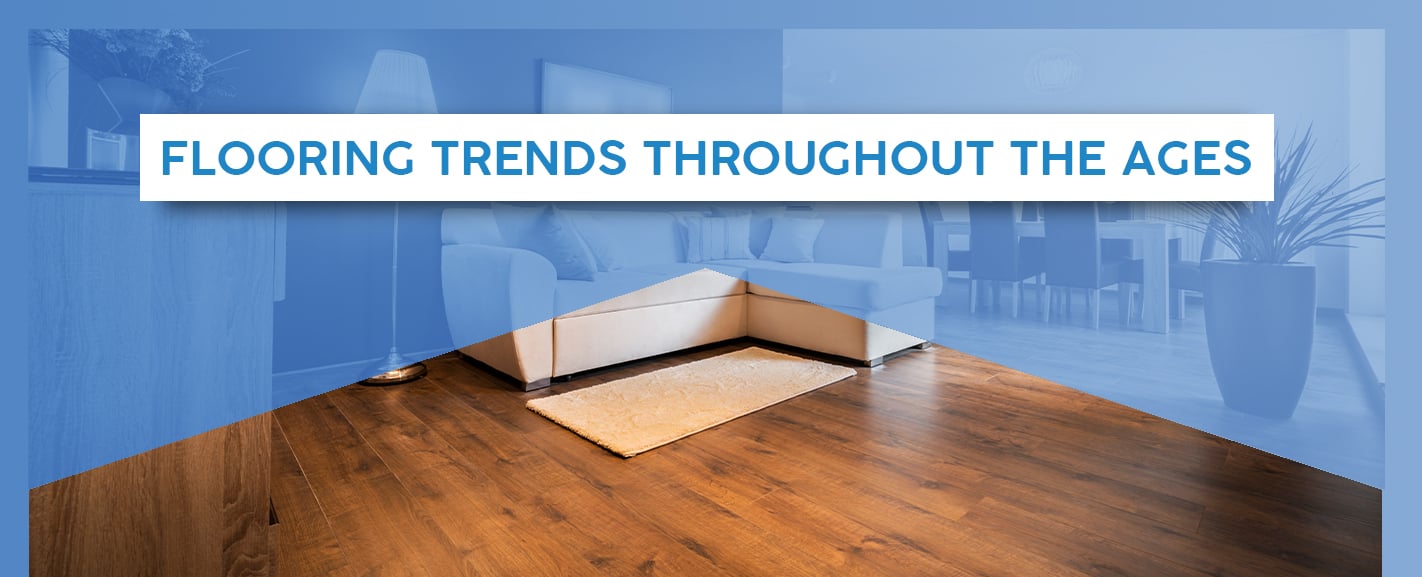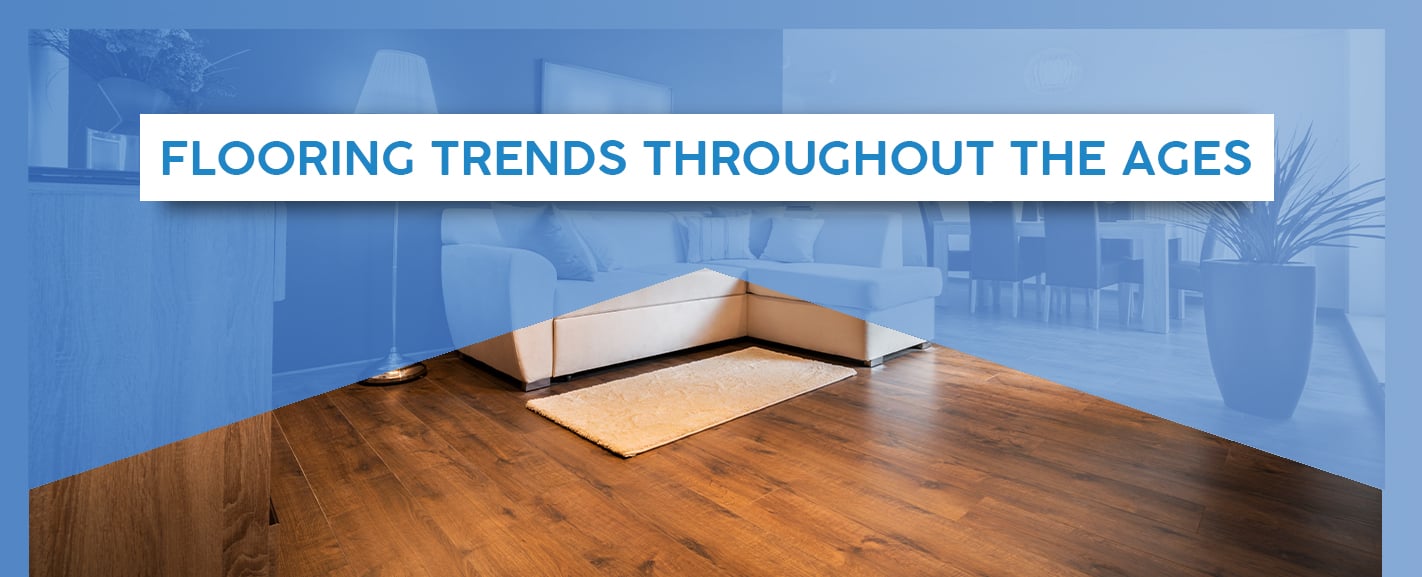 Over the centuries, flooring has proved to be an enduring, functional and even stylish home feature. Your home's flooring is a crucial part of your everyday life and provides a foundation for any living space, but it also can tell a unique story of your home's history. For older homes, historic flooring can offer insight into the past and the history of the home. If you're looking to remodel or sell your historic home, you may want to know the history of popular flooring styles and the evolution of flooring trends. This article takes you through flooring trends over time and provides everything you need to know about the latest flooring trends in 2021.
Why Do Flooring Trends Matter?
As styles update and people's tastes change, interior design takes on new styles and popular trends. Flooring trends change rapidly from decade to decade. New advancements, innovations and inventions have streamlined production and installation processes and are constantly changing. The latest trends from five and even two years ago can differ from today's popular flooring styles. Your floors should reflect your aesthetic and lifestyle, and modern trends go a long way in enhancing your living spaces.
Current flooring trends also borrow largely from the past. While trends have come and gone over time, authentic hardwood flooring and flooring options that mimic hardwood have regained popularity since the 20th century. Continued improvements to floor production mean that your options are constantly increasing. You can now achieve the look of natural hardwood with more durable and affordable options such as sustainable and waterproof vinyl or laminate floors that replicate natural wood grain. Following popular flooring trends can also be a significant asset to your property. When you're looking to resell your home, updated flooring in line with the latest trends can add significant value.
You may want to keep up with changing flooring styles over time, and one way to keep things fresh is actually to turn to historic hardwood flooring trends for inspiration. If you arerenovating an older or historic home, you might want to consider preserving and even mimicking the home's original flooring. 50 Floor can help you both update your flooring and restore its original beauty and elegance.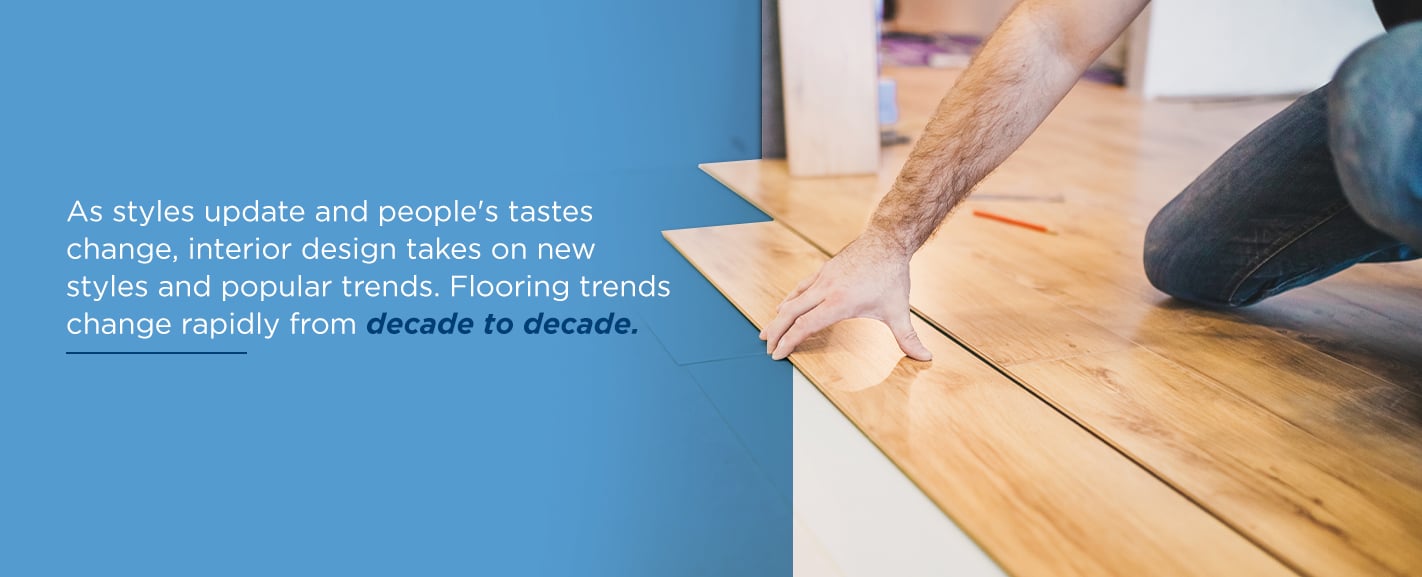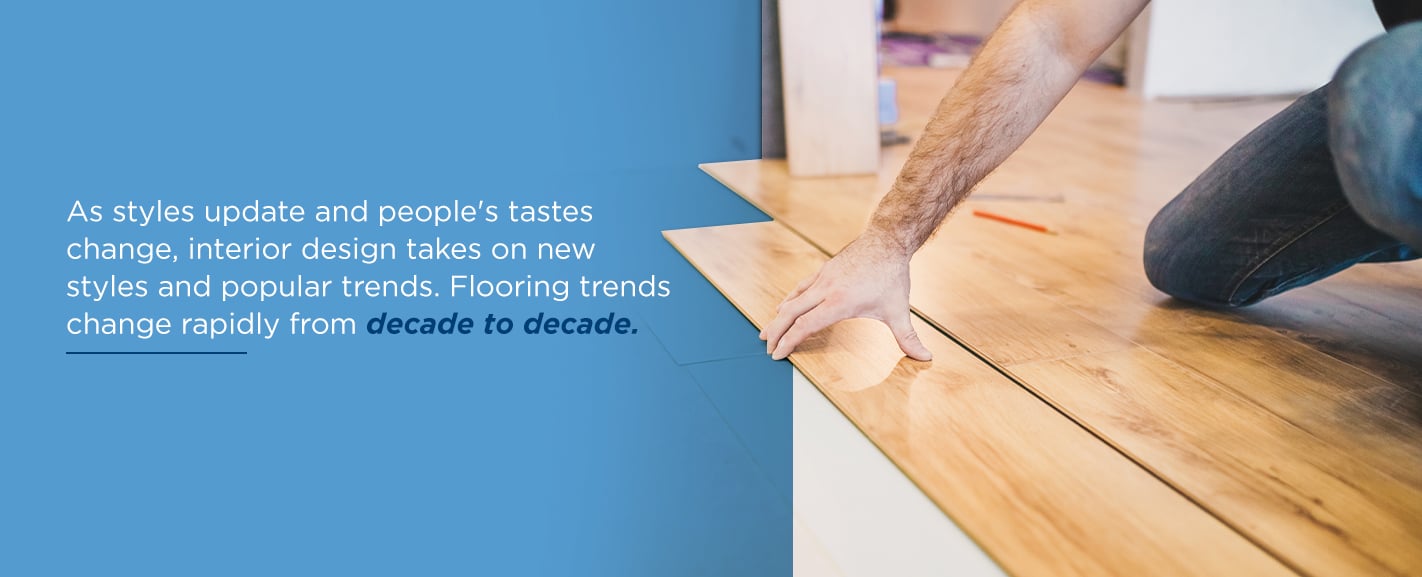 The Evolution of Flooring
How has flooring changed over time? While we now can import exotic wood for our flooring, people before were far more limited in what they could use for their flooring. Wood harvested for floors used to depend on availability in the region as well as manageable price.
Let's take a look at how far we have progressed concerning one of our home's most important features!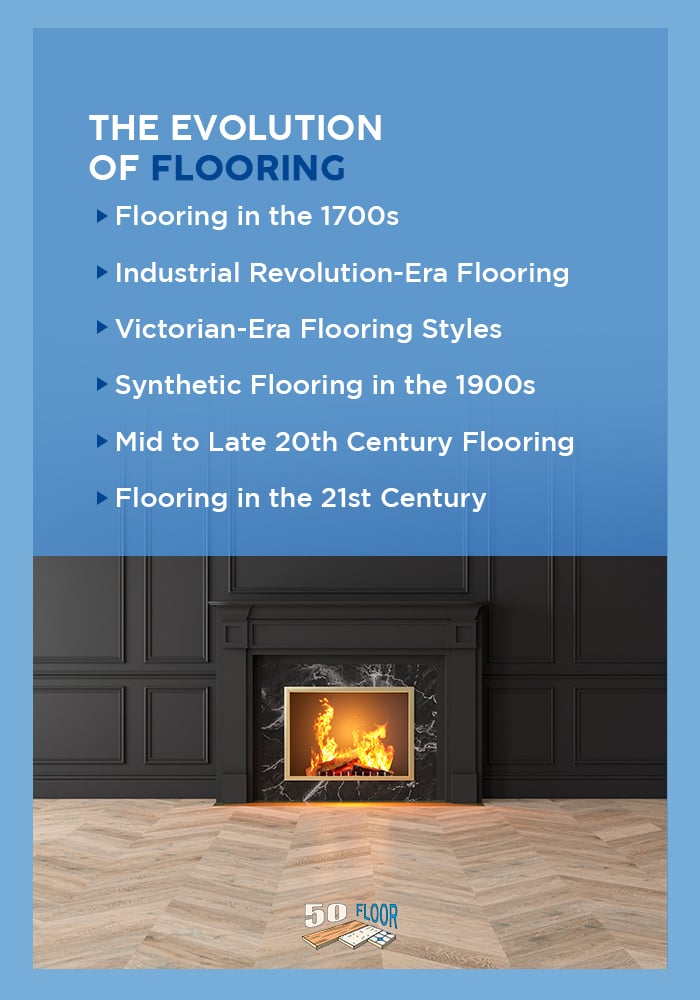 Flooring in the 1700s
During the Baroque period, hardwood flooring was intended only for royal floors and, later, wealthier American homes. In Colonial America, the earliest homes featured basic floor planks made from local tight-grained hardwoods or old- and slow-growth pine. These woods contributed to harder and more durable floors, and they also yielded wider planks. These plain, practical, and simple floors were left bare and worn smooth with time. Stains and varnishes to make floors shiny and give them a warm finish would only become popular in the later 20th century, and knots and other imperfections in 18th-century wood were a common occurrence.
The process of converting felled timber into pliable lumber for flooring was arduous, and people usually finished the rough-sawn planks with square edges. Gaps often formed between the wide floorboards, which were face-nailed to supporting beams and joists.
Industrial Revolution-Era Flooring
The Industrial Revolution saw the advent of steam-driven machines and tongue-and-groove molding, which allowed planks to be joined together and nailed down without leaving any exposed nails. As a result of new manufacturing equipment and techniques, rugs, floors and tiles, which had once been labor-intensive to produce, were now much more accessible and affordable. Workers could also produce finished lumber on a much larger scale, which allowed for far more numerous choices throughout the growing country.
During this time, flooring design borrowed heavily from more decorative and ornamental aesthetics of the rococo, oriental and renaissance styles. Hardwood flooring became a far more clean and attractive option for homes, and true strip floors became popular again. These narrower floors were 2 to 4 inches wide and became widely affordable and reliable in quantity in the 1880s as a product of the Industrial Revolution.
Steam-powered machinery also facilitated the milling of dense hardwoods like oak and maple. This milling allowed people to edge-match the sides of each board into a useful system of tongue-and-groove joints. Hard pine and fir were usually used for strip floors, whereas hardwoods like ash, elm and chestnut and softwoods like pine were popular choices for wide-board floors. While early strip floors were reserved for the better rooms of the home, such as formal parlors and dining areas, they would become almost universal in most homes by the 20th century.
The 1840s also saw the birth of tile making and new techniques to craft elaborate, decorative tile inlays.
Victorian-Era Flooring Styles
Hardwood floors laid in the 1800s were made from mature trees such as heart pine, oak or chestnut. These wood floors tended to be bare, dull and rustic and organized in planks mainly 2 and 3 inches wide. Conversely, older wood floors used boards around 8 inches wide. These wider boards were still used in homes in more rural areas or secondary spaces like kitchens and bedrooms.
Gradually, hardwood flooring transformed into parquet floors with a variety of complex patterns. Parquetry, or the geometric mosaic of wood inlaid in an intricate pattern into flooring, dates back to wealthy French estate owners in the 1600s. By the 1800s, people in America were using parquet floors to add intrigue to their homes. However, this era of flooring also witnessed the earliest phases of artificial material creation. With the creation of linoleum in the 1860s from a mixture of cotton scrim, oxidized linseed oil and cork dust, a new type of flooring known as synthetics emerged.
Synthetic Flooring in the 1900s
As innovators fused natural and manufactured materials, flooring became available in new options. During the rise of synthetics, new luxury vinyl tile, laminate and linoleum floors grew quickly in popularity as they could mimic the appearance of natural wood and stone. Americans had access to more flooring styles than ever before.
The invention of polyvinyl chloride vinyl (PVC) in the 1920s meant limitless design potential in vinyl flooring. Vinyl grew significantly after World War II as one of the top building materials of the century. The introduction of laminate flooring in the 1970s also helped fuel a diversification of flooring options for Americans. Laminate flooring is made of multiple layers of synthetic products and offers a realistic wood look at a much more affordable price.
Mid to Late 20th Century Flooring
Linoleum tiles remained immensely popular into the mid-1900s, especially in bathrooms and kitchens. This era of flooring also saw the rise in popularity of white and black checkered tiles. Full wall-to-wall carpeting boomed from the 1960s through the 1980s and became more accessible to middle-class Americans. This period also introduced a vast array of iconic color combinations, unique tile designs and decorative patterned flooring.
Floors of the early 1900s were primarily made of rubber, cork, felt and asbestos, but as the 1900s progressed, people gained access to greater variation and more glosses for their hardwood floors. By the mid 20th century, wood flooring had transformed from traditional, unfinished oak or maple into a much richer finish made from a wide variety of wood types, including walnut, hickory, mahogany and cherry. Many mid-century hardwood floors also featured original inlays and decorative patterns.
Additionally, the 1960s saw the invention of engineered wood flooring, which is natural wood construction coupled with composite or engineered components for greater durability. A significant benefit of engineered wood flooring is that it adapts to extreme weather and can endure severe heat, moisture and humidity.
Gradually, carpets fell out of fashion as they required more frequent replacement and updating, and hardwood regained its position as a popular flooring once more. When people pulled up old carpet, they often revealed old hardwood floors they could then refresh and restore to their original state.
Flooring in the 21st Century
By the start of the 2000s, people were taking a renewed look at distressed and textured hardwood floors in addition to different shades of wood staining. Matte, gray and wide planks became stylish once more, and people appreciated the affordability of luxury vinyl tile and its ability to replicate hardwood.
Hard-surface floors have continued to flourish, and hardwood flooring has rebounded in popularity. These floors are a significant selling point for many older homes. Renovators take great care to preserve the quality of original hardwood floors in homes as they can drastically increase a home's property value.
There is a myriad of flooring styles to choose from in modern times. From natural stone to hardwood to synthetic material, your options are limitless!
How to Mimic Historic Flooring Trends
When it comes to installing new flooring in your home, one popular styling choice is to mimic historic flooring trends. Many people appreciate the authenticity and aged look of historic wood flooring's exposed blemishes, knots and other imperfections. If you want to recreate the timeless look and feel of original, historic home flooring, consider using reclaimed wood, which can channel the look and feel of centuries-old floorboards.
Antique wood flooring and reclaimed wood flooring come from salvaged wood from historic buildings are two options for hardwood flooring that mimic the aged and distressed look of historic homes' wooden floors. Some reclaimed wood can be fashioned from the beams, paneling and floorboards of barns, warehouses and other structures and can showcase the history and deep texture of the wood.
Another way to mimic historic flooring is to blend your newly installed floors with the home's original flooring. For example, if you are renovating an older home and you want your new flooring to match your existing floors, you can strip the old floors, refinishing them and staining both your existing and new floors to maintain consistency.
5 Top Flooring Trends in 2021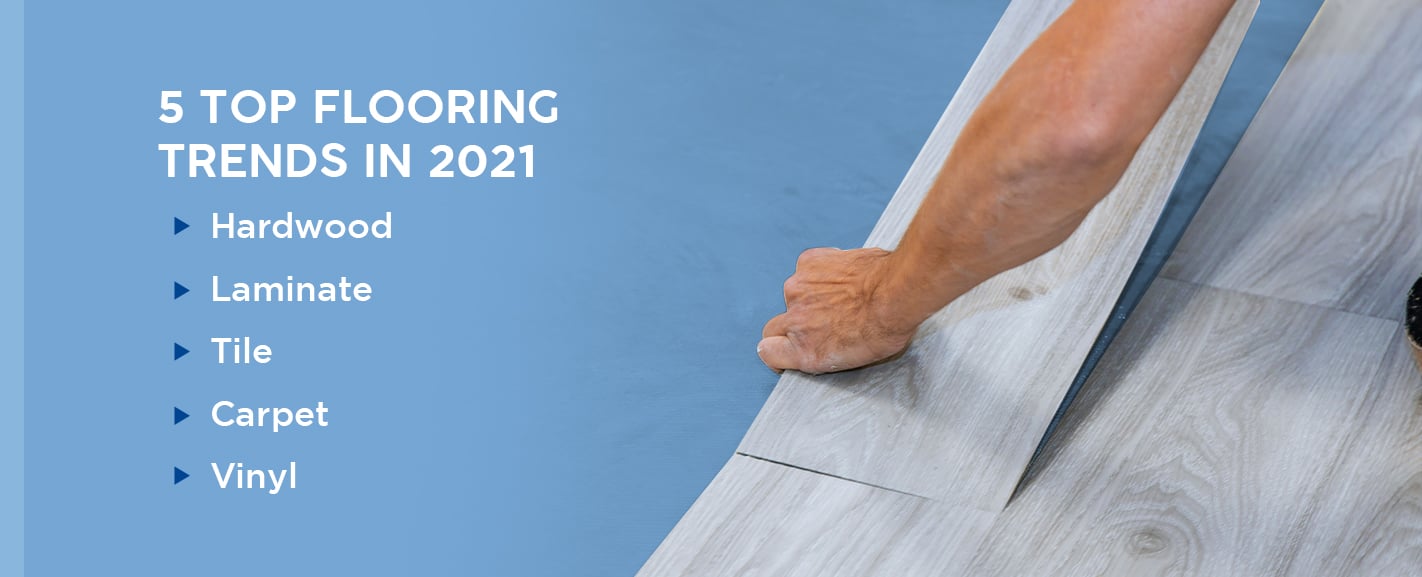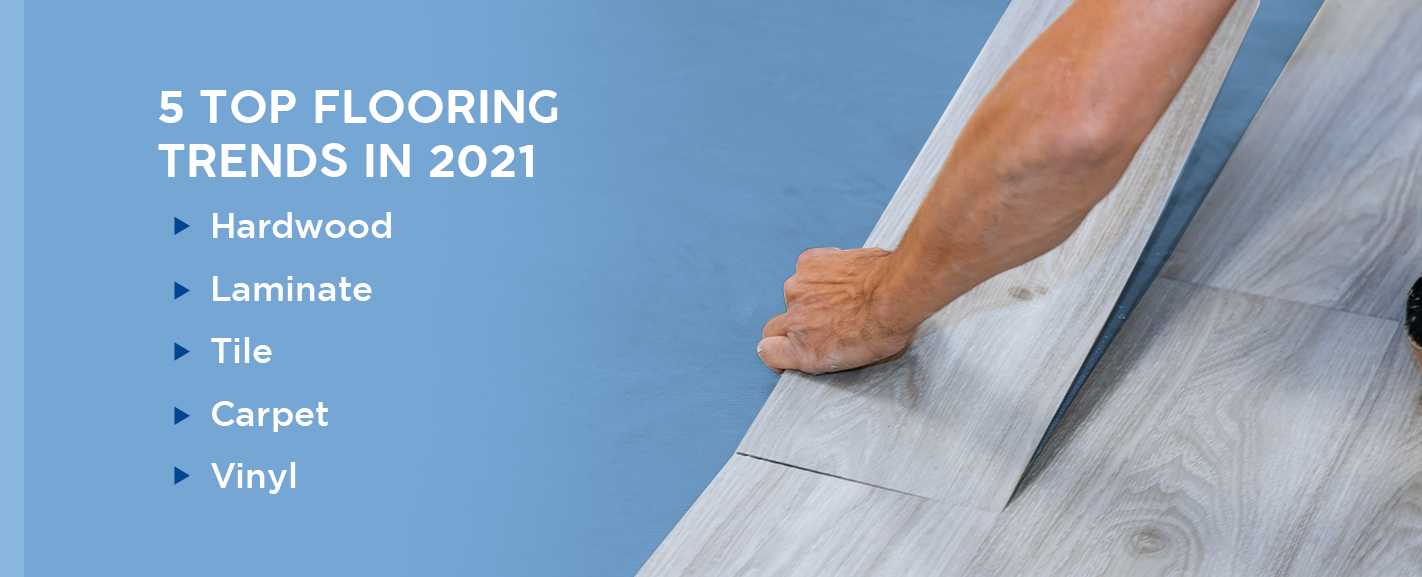 Hard-surface flooring has remained a popular choice in living areas, while carpets are still a prime option for bedrooms and cozy spaces. Here are some of the latest and hottest flooring trends for 2021.
Hardwood
Wide plank hardwood flooring is a new floor trend used to make small rooms look bigger and instill a natural elegance. Wide plank flooring maintains a traditional yet rustic style while also showing off the wood's natural indentations, knots and grains.Grays, whites and other light colorshave also become popular choices for wood flooring in recent years. White-washed wood offers a fresh, naturalistic and minimal look that complements nearly every interior style.
A prevalent form of hardwood flooring is engineered hardwood.Engineered hardwood flooringoffers beauty and durability and is low-maintenance, affordable and moisture-resistant. It consists of artificial materials and a top layer of hardwood with layers of plywood laid in alternating directions.
Laminate
Tried and truelaminate flooring imitates solid hardwoodand is attractive, affordable and easy to maintain. Laminate is also an excellent option for keeping up with a busy lifestyle and dealing with life's messes.Waterproof laminate flooringallows for additional comfort through its watertight seams and stain-resistant material. The textured multi-layer design also gives laminate a more natural look. To keep up with 2021 flooring trends, try high-variation, wood-look laminate in shades such as blonde and honey to make your home feel more open.
Tile
Tile flooring maintains a classic look and is practical and versatile. Many tiles are naturally waterproof, as well as durable and easy to clean. One style of tile that has remained popular is terracotta, whose eye-catching style is great for entryways, mudrooms and kitchens.
Tile flooring allows you to experimentwith organic and contrasting shapes, geometrics and grout that will make your design stand out. Try creating tile transitions across the areas of your home for a trendy and modern look, or use tiles arranged in patterns to create beautiful accents in any room. A popular 2021 tile trend is to arrange tiles in specific layouts to create unique patterns rather than use patterned tiles.
Carpet
Carpet is a classic flooring choice that has seen multiple upgrades over the years. Many people appreciate thedurability and comfort of carpet flooring, along with the diversity of carpet materials currently available. Some trendy choices in 2021 include shag or frieze carpet, Berber carpet and cut and loop carpet from traditional broadloom, polyester and nylon materials.
Feel free to mix and match patterns for your floor with carpet tiles, or add decorative area rugs to break up the various sections of your house and add warmth! Using bold geometric patterns will make a statement in any room. You can also find eco-friendly options for carpets that are primarily made from recycled materials.
Vinyl
People still considervinyl flooring an incredibly trendyand tasteful choice in floors. Vinyl is easy to clean and maintain, so many homeowners appreciate its convenience and easy upkeep. Vinyl flooring also has a natural and stylish look and can feature a variety of decorative patterns.
Luxury vinyl planks fit together and often feature sustainable backings, including cork. They mimic the look of real wood, stone or tile and are durable and water-resistant. Luxury vinyl planks and tiles also come in a wide selection of colors and styles. For a retro yet tasteful look, you can use patterned luxury vinyl flooring.
Meet With a 50 Floor Expert to Update the Floors in Your Historic Property
When you need expert remodeling advice for your home, you can rely on 50 Floor for convenient and affordable flooring options. Our competitive prices and flexible financing options will guarantee satisfaction in your home transformation project. From family-friendly alternatives to waterproof solutions, we offer the latest advancements in flooring technology and installation.
With 50 Floor, you can shop at home with an expert to guide you through the process of getting new floors. With access to our unsurpassable customer service, you'll save time and money as you explore new flooring options with your decor and lighting.
For the highest quality flooring for your home,schedule your free in-home consultationwith 50 Floor today!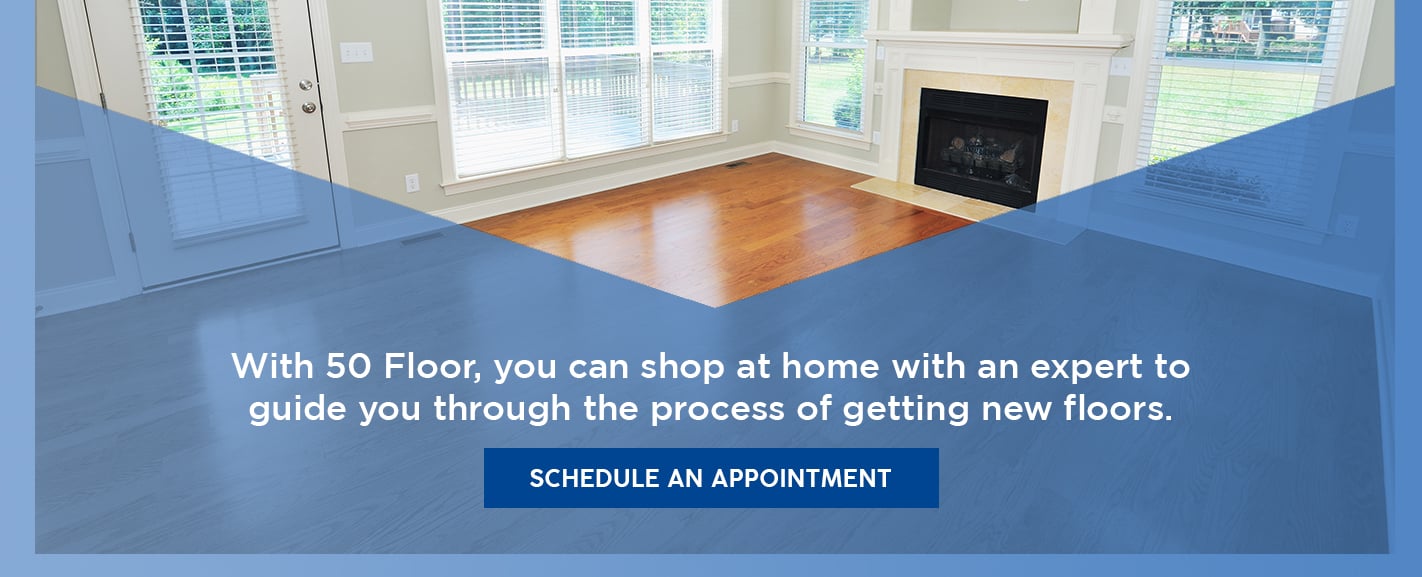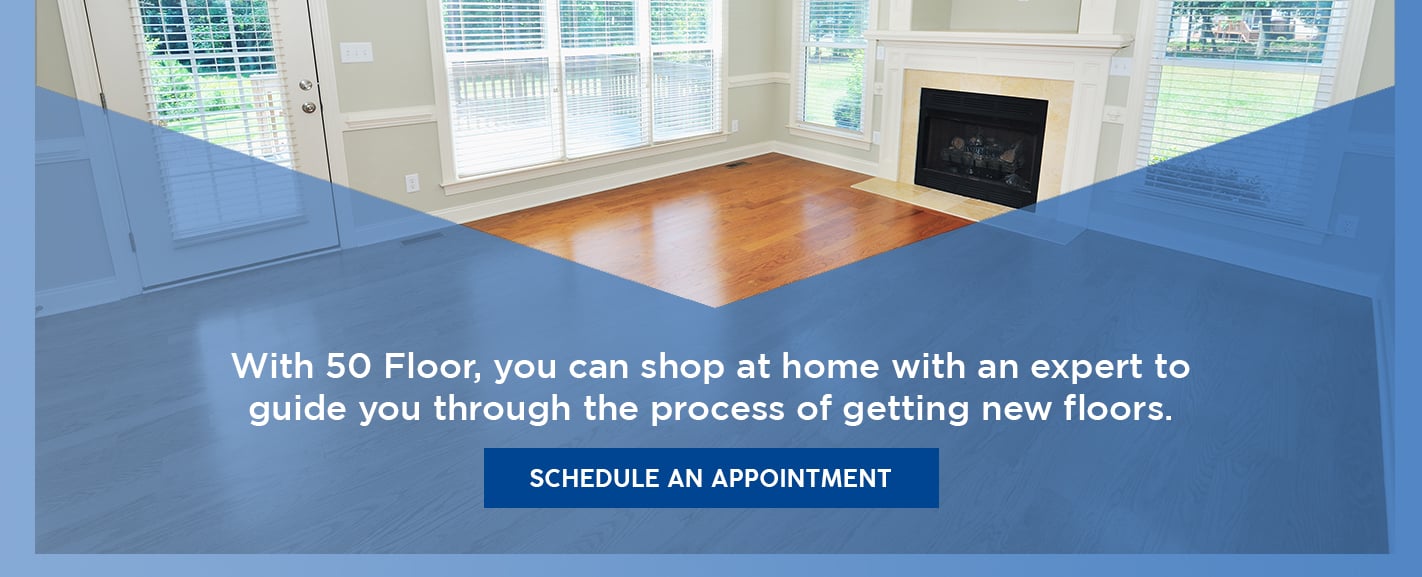 The post Flooring Trends Throughout the Ages appeared first on 50 Floor.