There's nothing like coming home to a house with a sophisticated design that reflects your unique style. If you want to give your home a makeover without splurging on a costly remodel, there are ways to revamp your space on a budget. You can achieve a luxury design with affordable styling techniques. Some inspiration is all you need to give your home a high-end feel without breaking the bank. 
This guide includes helpful tips for how to make your home look expensive on a tight decorating budget.
8 Budget-Friendly Ways to Create a High-End Design
Designing on a budget can be fun and creative if you follow the right strategies. Test out these interior design upgrades in your space to achieve a luxurious look for less.
1. Start With a Classic Base
Neutrals colors and classic tones are the secrets to creating a space that lasts for years. Walls painted with a simple color palette and traditional hardwood floors will never go out of style and will save you money on costly updates in the future. Taupe, gray, white, brown and black tones serve as the perfect base for any room.  
A neutral color palette will blend with any accessories to create a cohesive, high-end design. You can introduce fun colors and textures with pillows, art pieces and rugs. As your style changes, it's easy and affordable to swap out accessories. You can even update the color palette to match your seasonal decor. 
3. Create Ambient Lighting
The proper lighting should be functional and aesthetically pleasing. Overhead lighting will illuminate the room, but it can seem harsh and sterile. Placing several lamps around your space will create a warm and welcoming ambiance. 
Lighting can add interest and detail to the room. Plain and simple lighting comes standard with any home. Replacing basic fixtures with more stylish options is an affordable way to make a noticeable impact. Adding a chandelier will create a focal point for a high-end look. Replacing your shades with a modern version can make any room feel luxurious. 
4. Upgrade Your Flooring
Your floors serve as the foundation of the entire room. The style of flooring you choose will impact your space's overall look and feel. While replacing your floor requires some effort, it's an affordable way to elevate your space.
Wooden floors look clean and fresh to make the room look updated with a classic charm. Hardwood is an investment, but you can replicate the same look with moreaffordable vinyl or laminate.
Vinyl flooring is abudget-friendly additionto any room. It looks very similar to hardwood, and some people might even mistake it for the genuine article. Laminate is equallybeautiful and affordable. It often has realistic wood texture embossed on the surface. Both options are durable and waterproof, so they look brand-new for years to come.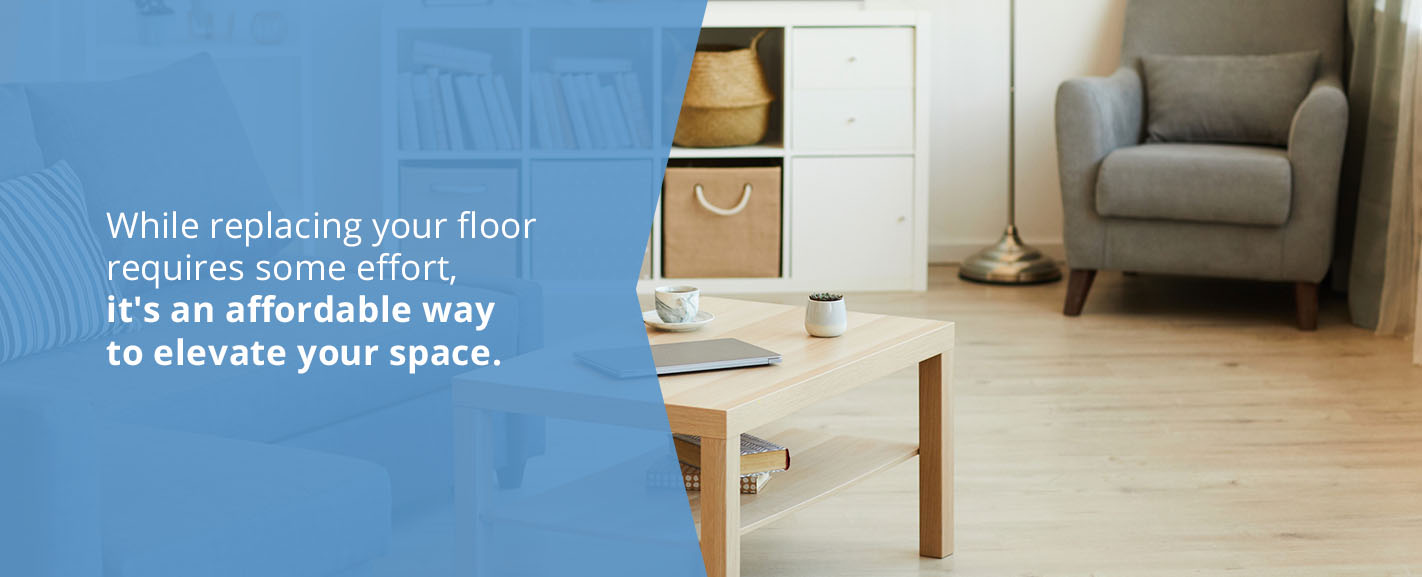 5. Hang Window Treatments
When it comes to creating a high-end look, the details and finishings make a significant difference. Drapes and curtains add texture and color to the room for a polished look. Sheer curtains let sunlight through the window, creating a soft cast of natural light. Colorful or patterned curtains serve as a bold focal point. The fabric that you choose is equally as important as the placement. 
Hanging your curtains from the ceiling will draw the eye upward and make the room feel taller and grander. Even if your windows are small, you can create the illusion of tall ceilings by installing your window treatments as high as possible. For a small investment, you can hang long, flowing curtains near the top of the wall to make your home look expensive on a tight budget. 
6. Create an Accent Wall
Painting an entire room can add up quickly. Adding one bold wall will bring interest and drama to your home at an affordable price. Using a dark shade will add depth and give the space a high-end feel. It only takes a small amount of paint to cover a single wall, so this design hack is one of the most affordable. 
For a less permanent option, peel-and-stick wallpaper comes in a wide range of colors and patterns at a low price. Temporary wallpaper adds a stylish flair to the space that can easily swap out to keep up with the latest trends. It can also hide minor imperfections in the wall for a sleek finish. 
7. Add Fresh Flowers or Houseplants
Interior spaces tend to feel incomplete without a few natural touches. You can literally add life to your home with fresh flowers or houseplants. They brighten up the room and add a natural element to your interior. 
Beautiful flowers are a luxury that we often give as gifts. Dressing your home with fresh blossoms will create a high-end look for only a few dollars. If you are a gardener, you can try this method for free!
Houseplants are also an affordable way to add interest to your home. They come in many sizes and varieties that can elevate any design. Touches of green can change the feeling of your space. A living plant will give your home a sense of peace and balance. 
If flowers are out of season or you lack a green thumb, faux options can achieve the same look. While they tend to cost more upfront, they will last forever without needing maintenance or replacement. 
8. Introduce Tile
Tile is anothertimeless materialthat adds a fresh element to any space. It's durable and easy to clean, so your home looks polished at all times. Porcelain and ceramic tiles come in hundreds of shapes, sizes, colors and patterns you can mix and match to create a stunning design.
For a small investment, you can add a sleek backsplash to your kitchen or a statement floor to your bathroom. Tile provides a high-end look that will last for years.
Contact 50 Floor to Take Your First Step Toward High-End Design
At 50 Floor, our team of professional flooring experts can help you achieve the high-end interior of your dreams. Choose from a wide range of high-quality and affordable flooring options to upgrade your space.
We provide a shop-at-home experience to help you choose the most impactful flooring that blends with your style. We offer laminate, vinyl, tile and other options at competitive prices to help you maximize a tight decorating budget. We handle the entire process, from ordering the materials to performing the installation.
With over 40 years of experience, we provide convenient customer service and top-notch craftsmanship. Take your first steps toward a high-end design with 50 Floor, and schedule a free in-home consultation today.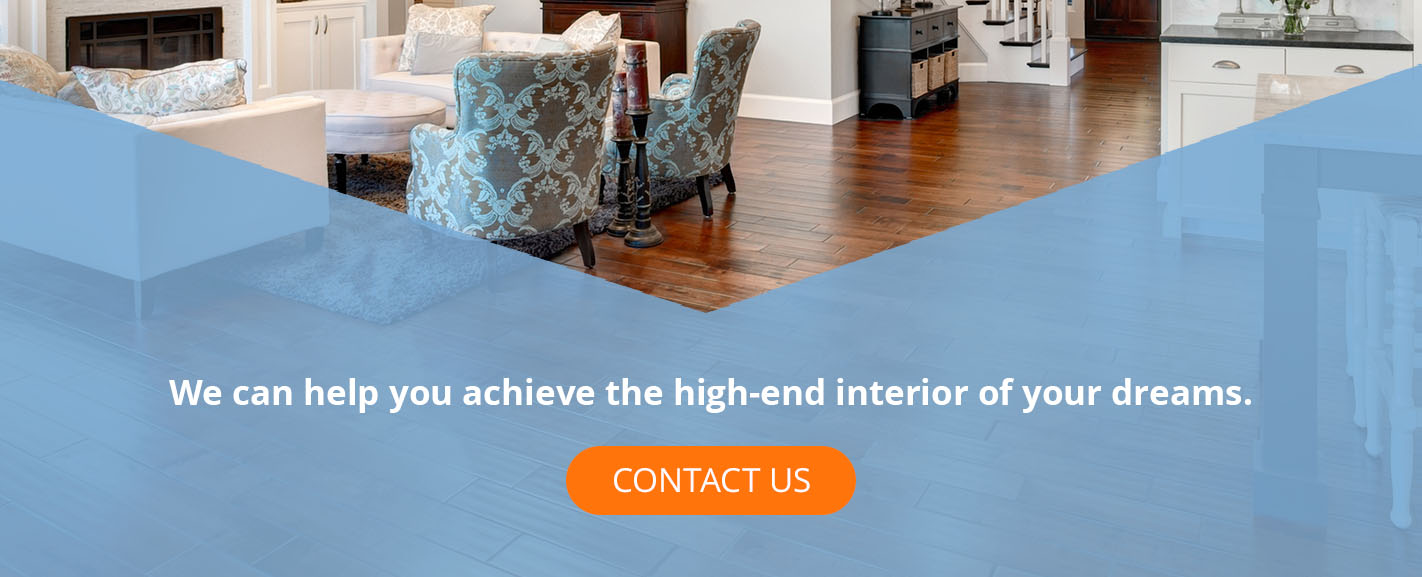 The post How to Make Your House Look High-End appeared first on 50 Floor.
Did you miss our previous article…
https://xtreme-flooring.com/?p=1176